World Day for Decent Work : "A New Social Contract for Recovery and Resilience"
This year marks the 13th World Day for Decent Work (#wddw2020). The global theme for this year's World Day for Decent Work is "A New Social Contract for Recovery and Resilience."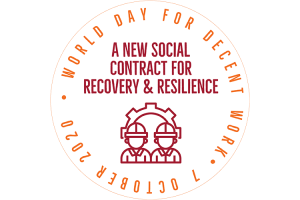 On this World Day of Decent Work, FTUC would like to encourage you to reflect on the importance and accomplishments of trade unions and the work trade unionist do for workers all over the world.
We wish all affiliates the best in their struggles in achieving decent work.
"Decent Work Four Pillars: standards and rights at work, employment creation and enterprise development, social protection and social dialogue" – ILO.
Kindly click on this link: https://www.ituc-csi.org/wddw-2020-en  to read more .
Please also take a look at this video message on this link: https://youtu.be/68w-AMguIz0  delivered by Sister Sharan Burrow, the General Secretary of International Trade Union Confederation (ITUC) on this year's World day for Decent Work.
Felix Anthony
National Secretary