This Trade Union Reference Manual seeks to provide guidance to all trade unions and aims to encourage the trade union movement in taking on more assertive roles for shaping policy development at national, regional, and global levels.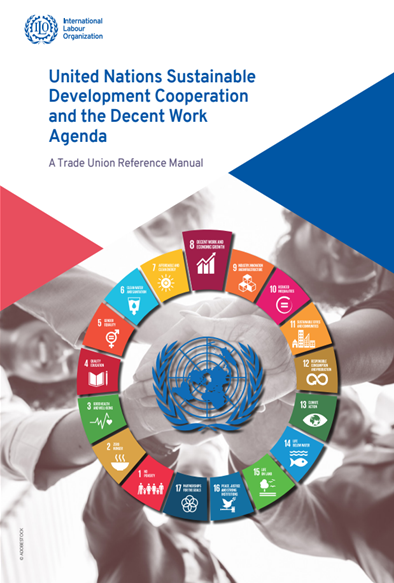 Read here: A Trade Union Reference Manual – United Nations Sustainable Development Cooperation and the Decent Work Agenda
The key themes addressed in this Trade Union Reference Manual are fully aligned with the International Labour Organization(ILO) Centenary Declaration for the "Future of Work". This guide also targets policy outcome 1 ("Strong tripartite constituents and influential and inclusive social dialogue"), Indicator 1.2.2. ("Number of workers' organizations that produce proposals to be considered in social dialogue mechanisms for policymaking") and allowing Outcome A ("Authoritative knowledge and high-impact partnerships for promoting decent work") 2020 – 2021 of the ILO Program and Budget on SDGs .
The ILO ACTRAV team has formulated this manual for trade unions on UN reforms and CF'S to help organize and educate workers' organization. This will help unions to play a vital role in influencing and shaping policy processes, mainly in the implementation of the labor law reforms at national level.
"Trade unions can use this manual to more effectively contribute to the implementation, monitoring, and outcomes of the 2030 Agenda process, focusing particularly on Voluntary National Reviews (VNRs) as well as regional and global sustainable development platforms, such as the High-Level Political Forum," Maria Helena André, Director, ACTRA.