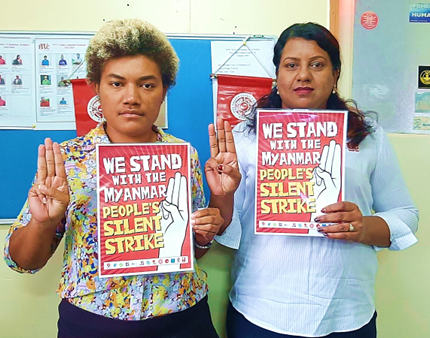 FTUC Assistant National Secretary, Ms Latileta Gaga (Left) and FTUC Executive Officer, Ms. Jotika Sharma (Right) in support of Myanmar Peoples Silent Strike.
Brother Michael Young, Organizer (sitting first from left) of National Union of Hospitality Catering & Tourism Industries Employees (NUHCTIE) and members stands in solidarity with Myanmar  people.
Confederation of Trade Unions in Myanmar (CTUM) silent strike demands the following:
    – Tribute to heroes of Myanmar
– Free political prisoners
– Support People's Democracy
– Restore the legitimate government
Purpose of the Campaign:
On 1st February 2021, Myanmar's military staged a coup d'état, deposing the democratically elected civilian representatives of the November 2020 elections and transferring power to a military junta. Since then, thousands of people have been arbitrarily arrested and killed by the regime.