"Fiji is committed to advancing social justice at home and abroad. We have ratified all eight fundamental conventions of the ILO and implemented various policies and programs to protect and empower our workers, especially those in vulnerable sectors such as tourism, agriculture, and fisheries."
This was the message made by His Excellency, the President Ratu Wiliame Katonivere while delivering his statement at the World of Work Summit during the 111th Session of the International Labour Conference, in Geneva on Wednesday (14.6.23)
President Katonivere highlighted that social justice is a fundamental value and goal of humanity. It means fair treatment of all people in a society, including respect for the rights of minorities and equitable distribution of resources among members of a community or a nation.
In line with the Fiji Government's and Cabinet's decision to accede to the United Nations Declaration on the Rights of Indigenous Peoples (UNDRIP), President Katonivere highlighted that this Summit provided an opportunity to inform the international community that Fiji has taken the important step of supporting UNDRIP.
"We join the international community in affirming the fullest expression of Indigenous peoples' aspirations. Fiji's support for UNDRIP is complementarity to its commitment to ILO Convention 169, which Fiji ratified in 1998. As a nation, we will continue to ensure that the rights of indigenous people are safeguarded and protected."
"As a regional hub in the Pacific, Fiji is facing complex migration challenges that have direct impact on our society and economy. According to the Migration Profile 2020, Fiji has experienced mass migration of its population due to political upheaval in the past and continues to have a significant rate of emigration, especially among skilled workers."
President Katonivere stated that Fiji is a destination country for migrants from other Pacific islands and beyond, who contribute to our labour market and cultural diversity.
"These migration dynamics pose both opportunities and challenges for Fiji's social justice agenda. On one hand, migration can enhance human development, social mobility, and cultural exchange."
"On the other, it can create social tensions, inequalities, and vulnerabilities among different groups. Therefore, we need to adopt a holistic and human rights-based approach to governance that ensures the well-being and integration of all migrants."
The President elaborated that a key challenge Fiji faces is the economic disruption caused by external shocks such as natural disasters, pandemics, or global market fluctuations.
"To overcome this challenge, we need to diversify our economy and build our resilience against future shocks. We need to invest in sectors that have high potential for growth and innovation, such as I.C.T, renewable energy, or creative industries."
President Katonivere urged the leaders present at the forum of the need to cooperate with regional and international partners, such as the ILO and other UN agencies, to share best practices, learn from each other's experiences, and coordinate responses.
"We must embrace the spirit of multilateralism and solidarity that underpins the 2030 Agenda for Sustainable Development and its 17 Sustainable Development Goals."
Heads of states and government from several countries were present at the Summit, such as Switzerland, South Africa, Malta, Central African Republic, Bangaladesh, Equatorial Guinea and Tunisia. Also in attendance were high-level representatives from various international organisations, United Nations agencies, the employers and workers representatives.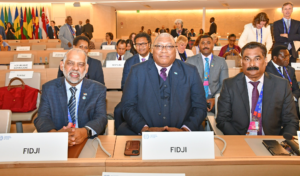 #peoplescoalition #FijiNews #FijiNews #SocialJusticeForAll #geneva
Source: https://www.facebook.com/FijiGovernment/